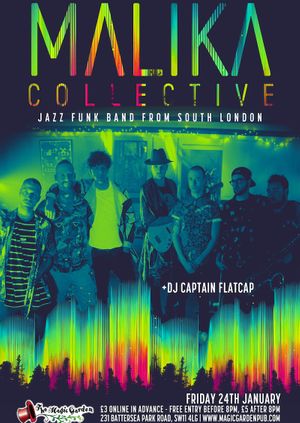 Malika Collective + DJ Captain Flatcap
24th Jan 2020 8pm - 2am
Add to Calendar
Event Details
Malika Collective was born out of a series of jam sessions at the Magic Garden Pub led by George Risk (Guitarist and Band Leader) and Ru Lemer (Keyboards and Engineer). With the addition of a host of musicians from London's thriving jazz scene, the Collective was born into an evolving line-up including multiple drum kits, a powerful rhythm section and some ferocious horns. Playing rhythmic music from around the world, this band draws on a range of traditional and modern genres to bring you passionate groove with a psychedelic edge.
Plus DJ Captain Flatcap 'til 2am.
Free entry before 8pm, £5 after 8pm, £3 in advance online.