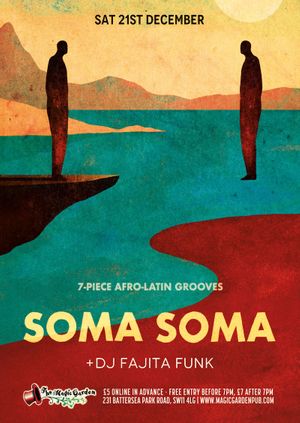 Soma Soma + DJ Fajita Funk
21st Dec 2019 7pm - 2am
Add to Calendar
Event Details
Sun-soaked compositions, groovy beats and contagious horn lines that will transport you to sunnier climes and contagiously get the whole room dancing!
Plus DJ Fajita Funk 'til 2am.

Free entry before 7pm, £7 after 7pm, £5 in advance online.

Brazilian with African influences. Through their distinctive collaboration of instruments, the Bristol based group have successfully pulled off a clever fusion of Afro-Latin musical genres which can only be defined as their own incredible SOMA sound.