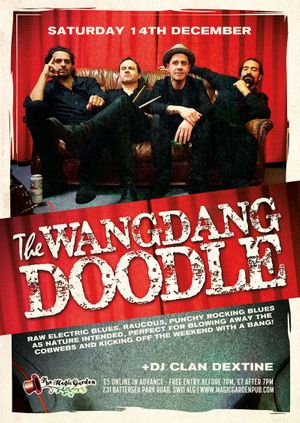 The Wang Dang Doodle + DJ Clan Dextine
14th Dec 2019 7pm - 2am
Add to Calendar
Event Details
Raw electric blues. Raucous, punchy rocking blues as nature intended, perfect for blowing away the cobwebs and kicking off the weekend with a bang!
Plus, DJ Clan Dextine until 2am.
Free entry before 7pm, £7 after 7pm, £5 in advance online.

The Wang Dang Doodle
Laurent Mouflier who has been playing blues harp for 25 years, was mostly involved in doing session work at the time. Playing as a sideman blues harp player, with the likes of Mick Taylor, Ronnie Wood, the Pretty Things, Ian Siegal, Stephen Dale Petit, when he decided to take the step up to front his own band.

His love for rock/ blues music and the willingness to compose his own music, made The Wang Dang Doodle see the light in early part of 2014. he was soon to be joined by Ben Heartland on the electric bass. Ben has been involved with various style of music.. including Bengali folk and Indian classical, he has also been involved with the well known UK Rock/blues band, Nine below Zero.

Francesco Cuturi, on the drum, has played with well known jazz italian Musicians & other style of music in his native Napoli, Italy. Upon his arrival in the UK, he fitted in straight away, being a fan of the stones, and is now a driving force behind the band. Kosmas Mylon came in for a bass session and made it to the guitar player part. most of the Wang Dang Doodle composition starts with his unlimited knowledge of riffs, and is a crowd favourite with his electric performance.

the band is influenced from all sort of music, from every genre, punk, rock, jazz, soul, funk.
Being a rock/blues band. the music is influenced by artists such as the rolling stones, howling wolf, Muddy waters, Bob Dylan, The Band, Canned heat, Lew lewis, Dr feelgood...
Catching the Wang Dang Doodle in a live situation, is a sight to behold. the performances are electric as if its their last gig. energy, attitude, screaming guitar, howling harps solos, mean vocals.

A band not to be missed!